tout sur les bagages à main dans l'avion
Everything you need to know about bringing your luggage on the plane
It is impossible to imagine a holiday without your luggage. When you travel by plane, there are many rules you should take into account. What do you have to take with you, what are you allowed to take with you and many more questions that you may have. We will tell you everything about taking your luggage with you on the plane!
Everything about carry-on baggage, check-in baggage and other tips
Go directly to:
Carry-on Baggage
General carry-on baggage rules
Basically, the luggage you can always take with you on the plane is hand luggage. This often consists of two parts, namely a hand luggage case, or carry on, and a personal item. The personal item must fit under the seat in front of you and is therefore a lot smaller than your carry on. It is also possible that you can only take a hand luggage case OR a personal item, so not both. Check this carefully with the airline you are flying with!
There are often strict rules for taking hand luggage, because everyone wants to carry as much as possible during their flight. This is not always possible because of the weight of a loaded aircraft and the space available in the baggage compartments. That is why hand baggage rules are often strict. Maximum dimensions and weight can vary per airline. So always check on the website of the airline how big and how much you can take with you.
Here you can find some rules of some popular airlines:
The sizes for hand baggage vary all around:
Carry on: maximum is usually 55 x 40 x 20 cm. This can be a hand luggage trolley or a large backpack.
Personal item: maximum is usually 40 x 30 x 15 cm. For example, this can be a handbag or backpack. Your personal item is always placed under the chair in front of you.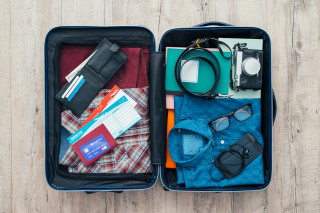 In your hand baggage you may also carry limited liquids, in packages of maximum 100 millilitres, in a transparent and lockable plastic bag (such as a ziploc bag) of maximum 1 litre.
When do you take your carry-on luggage with you?
Travelling with only hand luggage is becoming increasingly popular, as you almost always have to pay extra for check-in baggage (especially within Europe). For many trips, such as a city trip or a week in the sun, you only need a hand luggage case. It also makes a difference when you're at your destination!
On long flights, for example to South America and Asia, you will see more and more Basic Economy tickets pass by. These tickets are often good value for money, but you have to take into account restrictions compared to more expensive tickets for the same route. For example, you cannot choose a seat at check-in (this is indicated) and you may only take a hand baggage or even only personal item. So take a good look at what kind of ticket you found when looking for airline tickets!
Airlines offering a Basic Economy ticket include KLM, Delta, British Airways, Iberia, WOW Air, Lufthansa, TAP Portugal, Finnair, Icelandair and Swiss Air.
Does a pet count as carry-on luggage?
Nowadays a dog can be taken often into the cabin! However, there are some requirements when taking your pet on holiday. You have to be able to provide all the documents the airline asks for (think of pet passport, vaccinations and more).
Of course it varies per airline how big, how heavy and how many pets you can take with you. Always check this with the airline you are flying with.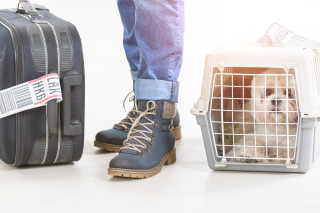 Check-in baggage
Check-in baggage is a bigger item of baggage that is transported in the aircraft's storage compartment. For many long routes (think of intercontinental flights) this is already included in the ticket, but for shorter flights or for specific airlines it is not included in your ticket. Where it is not included, you can always book it with your ticket. Usually the weight of your check-in baggage is a maximum of 23 kg per suitcase. This can also be lower, but with a more expensive ticket you can sometimes take 30 kg per suitcase. It varies per airline, ticket and per route how many suitcases you can take with you.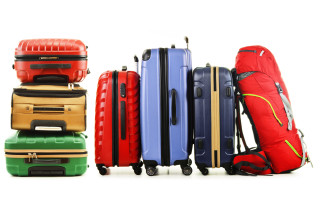 When do you take your check-in baggage?
If your check-in baggage is included in your ticket, you can easily choose to check in your suitcase. If you have to book your suitcase, it is useful to think about what you have to bring with you and whether it is useful to check in a suitcase.
Are you travelling with a larger group and do you need to book check-in baggage? If so, check whether you can put the belongings of more than one person in one check-in baggage. It makes a difference! Have a look at the airline's indicated dimensions and weights for your check-in baggage.
How to book check-in baggage?
When searching for airline tickets on BudgetAir.es we indicate whether or not check-in baggage is included in your ticket. In case check-in baggage is not included in your ticket, you can easily add this to your booking. If this is not possible, it is always possible after booking your ticket.
Think carefully about whether you need check-in baggage or not, because if you want to book it later or even have it checked in at the airport, it will cost you a lot more!
What are unusual baggages?
Unusual baggages are baggages that are not considered a regular size or that are extra fragile. For example, strollers, sports equipment or musical instruments. Wheelchairs and pushchairs can be taken to the gate, where they will be placed on the plane by the staff of the airline you are flying with. For other pieces of baggage there are often specific solutions and rates.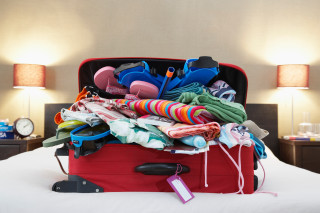 If you go for winter sports, you may want to bring your own winter sports equipment. This also falls under different luggage and the rules differ per airline.
---
With all this information about baggage, packing can no longer go wrong! Just Go!